PrEParing Primary Care - HIV Prevention Strategies on the Front Lines
Delaware Regional Partner Lecture Series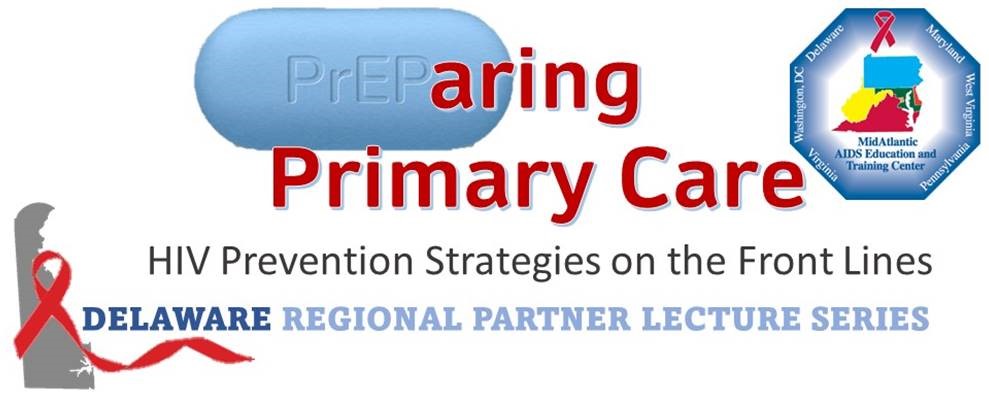 Special Virtual Event Series Invitation
Delaware regional partner of the MidAtlantic AIDS Education and Training Center are offering a virtual lectures series to help demystify PrEP. Each lecture features local experts in the field of HIV and HIV prevention.
Audience
This event series is open to all healthcare professionals interested in gaining knowledge to improve their practice.
Accreditation
This activity was planned and implemented in accordance with the accreditation requirements and policies of the Accreditation Council for Continuing Medical Education (ACCME) through the joint providership of the Medical Society of Delaware and the MAAETC. Continuing Education credits issued for participation in CE activity may not apply toward license renewal in all states. It is the responsibility of each participant to verify the requirements of their state licensing board(s).
FEATURED SPEAKER

TOPIC

DATE

TIME

COURSE DESCRIPTION

LINK TO REGISTER

Eric Halpern, MD

Primary Care Physician

Holloway Community Program

PrEP in the Primary Care Setting

Tuesday, July 19, 2022

9:00 AM – 10:00 AM

Will discuss the importance of integrating PrEP care into the primary care setting. Will discuss those who would benefit from the discussion of PrEP, USPSTF guidelines, and practice changes that can allow for recognition of those at risk for developing HIV and comprehensive preventative measures that can be taken.

MidAtlantic AIDS Education and Training Center: Events (maaetc.org)

Adam Skrzynski, MD

Infectious Disease Physician

Holloway Community Program

Overview of the 2021 CDC PrEP Guidelines and Related Clinical Pearls

Tuesday, August 2, 2022

1:00 PM – 2:00 PM

This lecture serves as a relevant overview of the updated 2021 CDC PrEP Guidelines as well as a practical clinical perspective on the prescribing of oral PrEP.

MidAtlantic AIDS Education and Training Center: Events (maaetc.org)

Joshua Holmes, Pharm D, MS, BCACP

Clinical Pharmacist Specialist

Holloway Community Program

An Ounce of PrEParation: A HIV PrEP Medication Review

Tuesday, August 9, 2022

1:00 PM – 2:00 PM

Objectives are:

Recall CDC guideline recommendations for safe and effective PrEP use
Identify medication options for PrEP and the drug information guiding their use
Review the literature that informs the use of PrEP agents
Apply knowledge of PrEP to an example patient case

MidAtlantic AIDS Education and Training Center: Events (maaetc.org)

Brian Wharton, MSN, RN, CPEN, CPST

Delaware RP – Site Coordinator

Holloway Community Program

HIV Prevention: Are you utilizing all your tools?

Tuesday, August 16, 2022

9:00 AM – 10:00 AM

This session will describe the benefits of the Status Neutral Approach in normalizing and de-stigmatizing HIV testing. Treatment plans for HIV- and HIV+ for newly diagnosed will be explored. Explore potential resources that are available. Will take a deeper dive into the barriers and stigma of PrEP through a trauma informed lens.

MidAtlantic AIDS Education and Training Center: Events (maaetc.org)